Moonlighting is one of the fastest-growing nationwide on-demand marketing solutions. The company's marketplace connects people looking to work with people who are ready to hire. While a free service for all users, Moonlighting also offers a premium upgrade for businesses to grow and extend their brands as well as their reach.
Instantly Find and Hire Local Help for Any Project. Post free now.
EARN more doing what you love: post your services and MAKE MONEY now! Start today!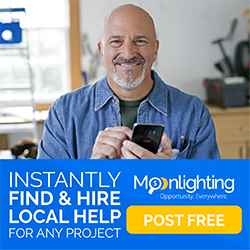 For $99/year, get Mobile Social Marketing that's Easy and Effective. Learn more!